Do brand matters when it comes to SEO? Or, you can still do great even if you are not a brand or popular yet? It is a debate topic, but today we will try to find the truth.
Keep reading…
What is a brand?
The things that people starting thinking about when they hear the term brand are:
Brand Name
Logo
Colors
Fonts
Design
Look and feel
Well, these are somehow connected with brand marketing but can't make brand alone. There are lots of components that make a brand.
Let's understand with an example – You are running a restaurant that is best known for cold coffee. The customer who comes to you will not judge you only for your coffee but also the cleanliness, customer service team and staff. All these things will affect your brand.
The best brand is that when people say good even if you are not around. To establish a strong brand presence you need to think of core values that touch customers deep.
Is brand a ranking factor?
Well, no.
There are no official statements from Google that brand is a ranking factor. Because there is no way to measure brand strength available yet.
However, strong brands give relevancy and authority singles that google loves. In fact, we have seen popular brands ranking high in search results even if they don't implement the basics of SEO.
Google's recent search quality evaluator guidelines indicate that a positive reputation can be considered as E-A-T. Additionally, having a strong brand seen high click-through rate compared to non-branded websites.
Define your brand
There are multiple definitions available on the web on this subject. The one we found impressive is Hubspot's recently published guide on brand identity for marketers. But there are a few things that you should know.
What makes you different – This is the first question that you should have answers of. Why would someone choose you over others? Is it your customer service or product?
In fact, you should look beyond the customer services including the other factors that might be the reason people love to buy from you, not your competitors. Once you get the right answer you can improve that to increase your sales.
Your unique values – You should be aware of the most important values that your companies provide to its consumers.
How can you find those core values?
There is an easy way to find the important values of your organization is to do the card sorting exercise with your entire staff and request them to write the things they like in your organization.
Keep repeating this exercise until you find the values that best represent your company. The value must not be compromised even if someone pays to change that.
Your customer persona – Content is king and that even true for SEO. The better you'll understand your customers the better content you can create. Segment data about your customer including their hobby, joy, fear, and needs.
Be Honest – Your audience is smart and they can feel if you are telling the truth or lying. Therefore, you shouldn't spread any message that isn't true about your brand. You should also be aware of your competitors' strengths and weaknesses.
Provide complete information
When a user searches something on google he wants to look for the solution to a specific problem. As a website owner, it's your job to understand your customer's problem and provide them with the right solution.
Let's say you are selling a washing machine, then "I need a washing machine" isn't the problem – it's a solution to a larger problem.
Maybe your clients are looking for inverter washing machine or maybe they want to reduce his electricity bills. These problems can be solved with your product but if you are targeting a few keywords around a specific product then you are missing the opportunity to build a relationship.
Start keyword research with the head term and add other relevant keywords in your bucket. The idea is to create a piece of content that flow information in a manner that helps users to find the right product.
Don't limit yourself to Google Keyword Planner, because this tool isn't built for SEO but for paid advertisers. Instead, use keyword tools like SEMrush or Ahrefs which is consistently improving itself and providing more keyword variations.
You can find lots of untapped keywords on Quora. To speed up the process use SEMRush tool. Simply put the domain name and search for the seed keywords and it will throw out other related keywords that you may never think of.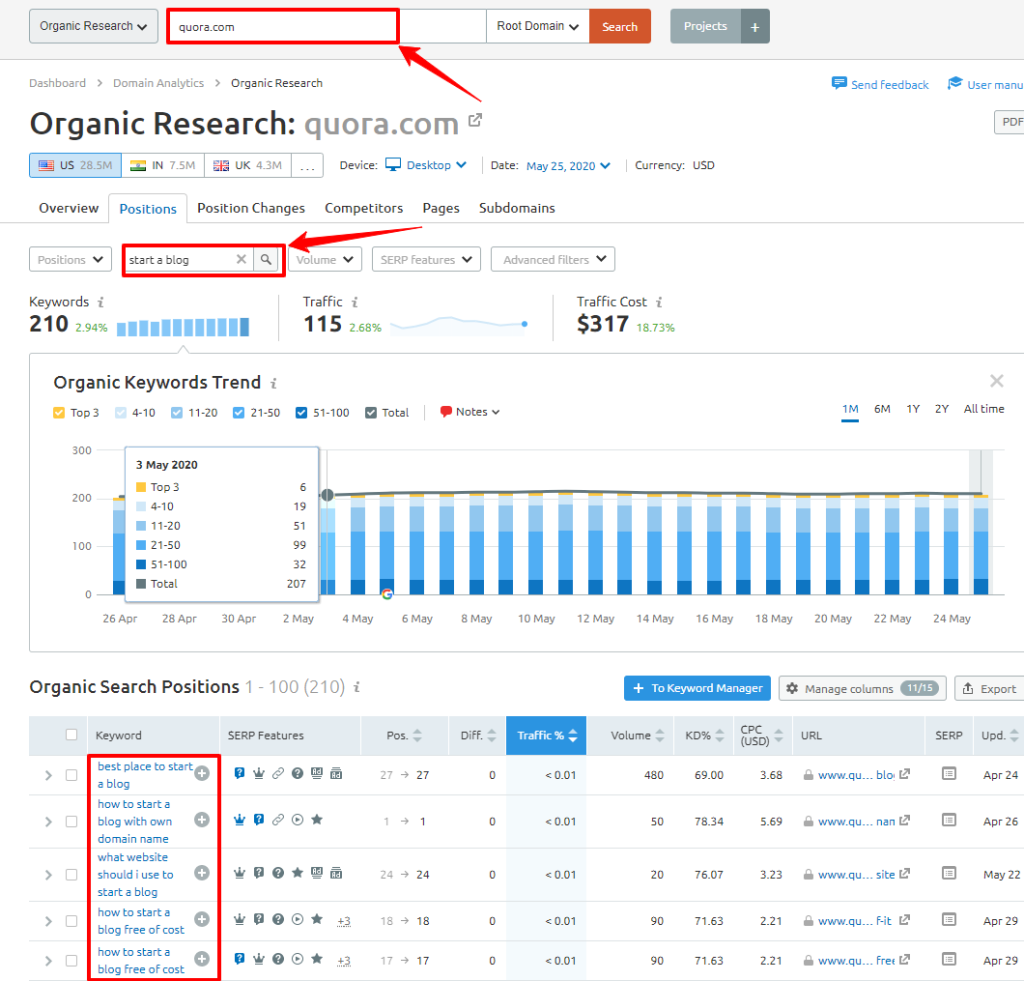 To learn more about keyword research using SEMrush you follow this SEMrush tutorial. Make sure you add the frequently asked questions when creating content, so you can clear the doubt of your potential clients.
Brand building and information architecture
Now you know about your customer's problem and how to solve them, it's time to build a website that put it all there. With that, you have two options: First, make changes in the existing website and second is build a complete website and implement all things there.
Here are some points you should keep in mind for each page of your site:
Map out which of your persona's interest will serve on that page.
Which queries they might have at which stage.
Internal links other important pages to help them make the right decision.
Don't put all the information on a single page, it might confuse them.
Make sure your clients get more than they deserve, it will make them come back again.
Using this information you can create a website that complete customer journey without making SEO complicated. You are not going to throw some random keyword on each page but assign the right keywords to the right page.
Though this process can be time-consuming, it's worth it when you have a long term goal. Relationship building strategy takes time to generate results but the clients you will get will be your loyal fans and they are not going anywhere soon.